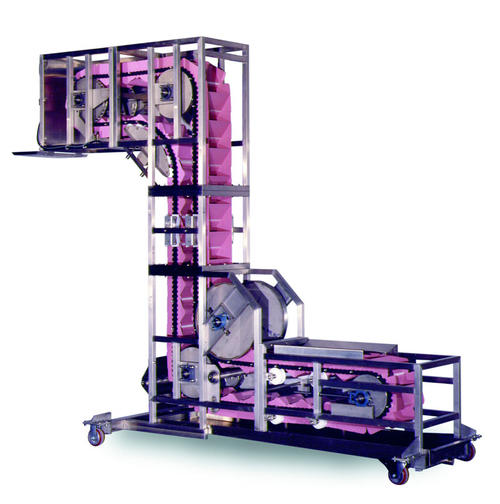 Open TipTrak™ Bucket Elevator: Delivers the gentlest handling, least spillage, lowest maintenance, and quietest operation of any mechanical elevating device. Unique interlocking buckets virtually eliminate spillage
All TipTrak™ bucket elevator conveyors utilize a proprietary interlocking bucket system, with extra-deep buckets and jam-proof design. The result is consistently reliable spill-free loading, conveying, and discharge of a very wide range of materials. The Open TipTrak™ bucket conveyor is very easy to clean and allows constant monitoring of your operation.
P.E.C. TipTrak™ Bucket Elevator:
The enclosed design with bolt-on covers protects the product and the operator. The following options are available to create a high-performance bucket elevator conveyor tailored to your application:• Heavy gauge carbon steel or stainless steel construction
• Inlet hoppers w/vibratory feeders
• Infeed flanges
• Speed switches/motion alarms
• Discharge chutes
• Discharge assists for sticky products
• Covers of polycarbonate sheet or sheet steel
• Easy access panels along horizontal sections
• Hinged access doors on vertical sections
Monocoque TipTrak™:
Available for 100% dust-tight, air/gas-tight operation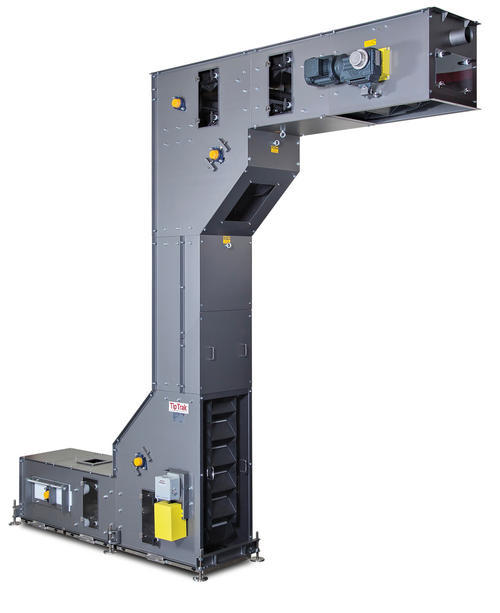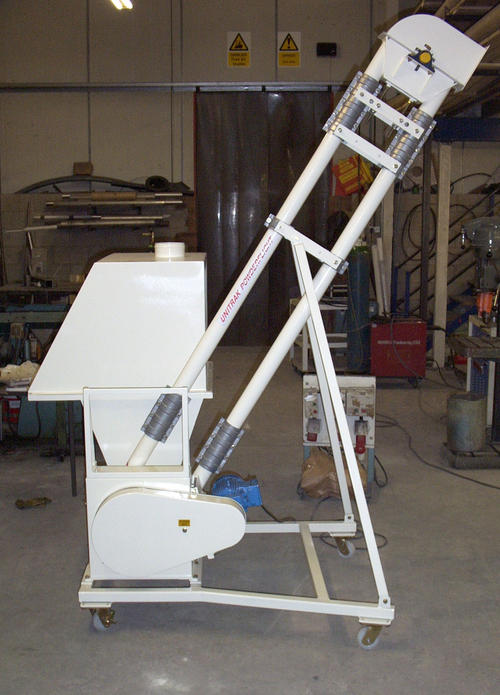 Powderflight™ Aeromechanical conveyors:
Provide a Dust-free solution for a wide variety of food and chemical materials. Dependable high output. Clean handling. Affordable cost. Within a tube of mild or stainless steel, a wire rope with evenly spaced discs travels at high speed, running in sprockets at each end of the conveyor. The high speed action generates an internal air stream traveling at the same high velocity as the discs. As material is fed in, the air stream aerates or fluidizes it and carries it to the outlet, where it is discharged by centrifugal force.
KWS Bucket Elevators:
Consist of a series of buckets attached to a belt or chain with pulleys or sprockets located at the top and bottom of the unit. The buckets are located in a casing or housing to contain the material. Bulk materials are loaded into each bucket as the bucket moves past an inlet point. KWS designs and manufactures a wide variety of bucket elevators based on the characteristics of the bulk material and the process requirements. Bucket elevators are designed to handle a wide variety of bulk materials from average to very free-flowing. Many different bucket and casing sizes available for capacities up to 15,000 cubic feet per hour, completely enclosed for dust and weather-tight operation.