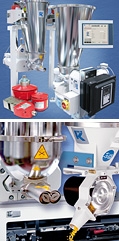 Coperion K-Tron Feeders
Feeders and feeding systems for dry bulk materials and liquids. Offering feeding solutions for controlling the flow of dry bulk material and liquids into a process. Coperion K-Tron offers volumetric and gravimetric feeders and control systems for batch and continuous processes.
Volumetric Feeders: Coperion K-Tron volumetric feeders include the highly accurate Bulk Solids Pump (BSP), single screw feeders and twin screw feeders.
Gravimetric Feeders: Gravimetric feeding combines monitoring of the feeding process with a feedback loop that ensures more accurate material control.
Bulk Solids Pump (BSP) Feeders: Designed and engineered to provide gentle, precise feeding of free-flowing pellets, granules, and friable products.
Weigh Belt Feeders: Weigh Belt Feeders provide gentle handling for fragile bulk materials and a relatively lower cost than loss-in-weight feeders at higher feed rates.
Gain-in-Weight Batching: Gain-in-Weight Batching is a flexible and economical to weigh feeding.
Gravimetric Blenders: Coperion K-Tron's K4G Continuous Gravimetric Blender System was designed the plastics processing industry.
Mass Flow Meters: The Coperion K-Tron Smart Flow Meter is used in industries that need reliable metering, registering or monitoring bulk of material flows at high rates.
Coperion K-Tron Quick Change Single/Twin Screw Feeder: A specially designed feeder for applications requiring flexible material handling capabilities, easy changeover and fast cleaning.
Feeder Controls: Coperion K-Tron's feeder controllers and operator interfaces deliver the flexible functionality and connectivity required for today's process applications.
Feeder Weighing Technology: Accurate feeding, batching and metering of bulk solids materials starts with precision weighing. Coperion K-Tron's patented vibrating wire technology was developed expressly for the process industries.
Hopper Agitation: Coperion K-Tron's breakthrough material flow aid for feeders prevents bridging or rat-holing of cohesive bulk materials in hoppers.
---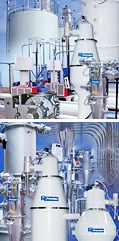 Coperion K-Tron Pneumatic Conveying Components and Complete Systems
From single components to complete system, Coperion K-Tron is your single source for pneumatic conveying. Coperion K-Tron vacuum and pressure conveyers are used in the plastics industry, compounding, chemical and mineral systems, and food ingredient processing.
Aerolock™ Rotary Valves: Coperion K-Tron rotary valves are backed by more than 45 years of experience-tested airlock design and application. With more than 150 models and sizes, Coperion K-Tron is able to provide the most appropriate airlocks and rotary valves for applications in the food, plastics and chemical process industries.
Diverter Valves: Diverter Valves direct material from one source to multiple destinations and is ideal for use in pressure systems.
Vacuum Sequencing Receivers: Coperion K-Tron vacuum receivers handle powder, pellet, regrind or granular materials in a self-contained or central vacuum conveying system.
Self-Contained Loaders: Self-contained pellet and powder loaders are low cost vacuum conveyors used for machine loading and other applications where material is moved short distances to one destination.
Blower Packages: The right blower operating at the right speed is critical to any pneumatic conveying system.
Automated Pneumatic Conveying Controls: Coperion K-Tron's standard PLC is Allen-Bradley. We are also experienced with other brands such as, General Electric, Siemens, Modicon and Automation Direct.
Bin and Hopper Fabrication: Coperion K-Tron offers bag dump stations, surge bins, scale hoppers and airlock surge hoppers.
Filter Receivers: The Filter Receiver provides automatic material-from-air separation.
Cyclone Receivers for Filterless Pneumatic Conveying: The filterless cyclone receiver is ideal for conveying clean, pelletized materials without fines, or in applications where complete separation isn't required.
Bin Vents: Mounted atop a storage tank, a Bin Vent filters the exhaust air and allows the tank to breathe.
Feeders and Blenders/Mixers: Equipment for on-machine feeding for injection and extrusion applications, continuous and batch gravimetric blenders.
Silos and Surge Bins: Storage tanks for dry bulk material storage applications.
Flow Aids: Fluidizer beds for tank hoppers, bin unloaders for rotary valve interface, and zone blenders for blending and homogenizing free flowing bulk materials within a hopper or silo.
---