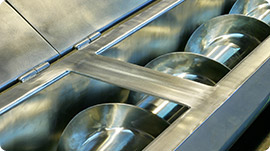 ---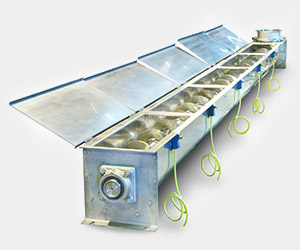 Shafted screw conveyors: Are used in thousands of industrial applications every day for efficiently conveying a variety of bulk materials. A screw conveyor's main function is to transfer bulk materials from one process to another. Screw conveyors are very cost-effective and require minimal maintenance to operate.
---
Shaftless Screw Conveyors: Bulk materials discharged from centrifuges, filter presses, or mixers can easily be metered or conveyed using a shaftless screw conveyor. Our shaftless design provides a non-clogging conveying surface that allows difficult-to-convey materials to become easy-to-convey.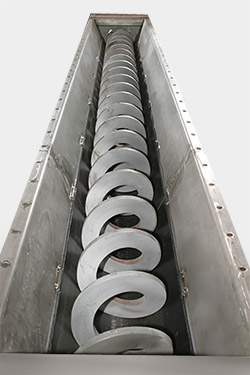 ---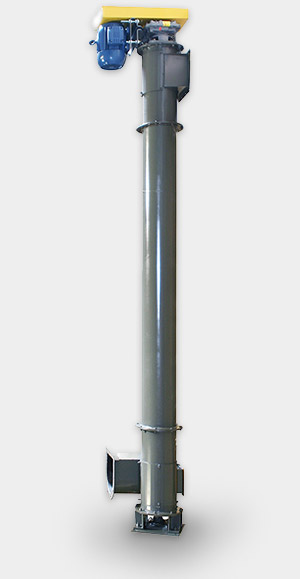 Vertical screw conveyors: Are a very efficient method for elevating a variety of bulk materials at very steep inclines or completely vertical. The compact design allows for the vertical screw conveyor to fit into almost any plant layout. With a minimum number of moving parts, the vertical screw conveyor is a cost-effective and dependable component of any bulk material handling process.
---
Flexible Screw Conveyors:
Move virtually any bulk material. Free-flowing and non-free-flowing materials and blends.Flexible screw conveyors offer efficiency and versatility, conveying bulk materials ranging from large pellets to sub-micron powders—both free-flowing and non-free-flowing—with no separation of blended products.
All flexible screw conveyors are available on caster-mounted frames with conveyor support masts for in-plant mobility, reducing the need for multiple stationary units.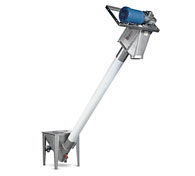 ---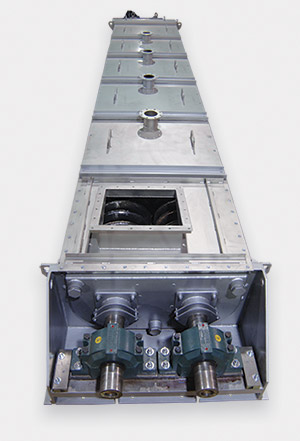 Heat Transfer Screw Processors: During the processing of many bulk materials, there is a requirement to cool, heat, or maintain a specific product temperature while conveying the product. The desired temperature fluctuations must be calculated and engineered into the system to accomplish the preferred objectives.