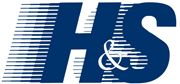 ---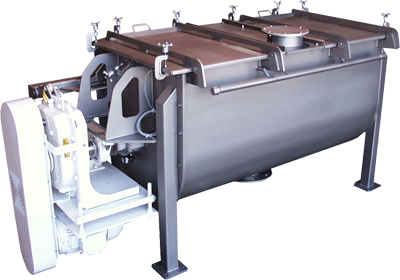 Hayes & Stolz Batch Mixers: Ribbon and paddle style mixers, both single and twin shaft "counterpoise" designs are available for mixing of specific products. Solid steel main shaft and solid steel ribbon support arms. Stainless or carbon steel construction ribbons with intensifier bars.
---
Hayes & Stolz Continous Mixer: Dry ingredient blending for various ingredients. Liquid to dry ingredient blending and liquid coating of dry materials. Slurry blending. Blenders are fabricated of carbon steel, abrasion-resistant steel, and stainless steel with commercial or sanitary finishes. Paddle blenders are available with either bolted adjustable paddles or fixed welded paddles. The bolted paddle arrangement can be easily adjusted to increase or decrease retention time and blending intensity.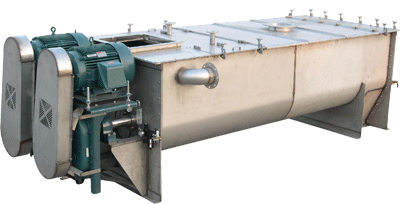 ---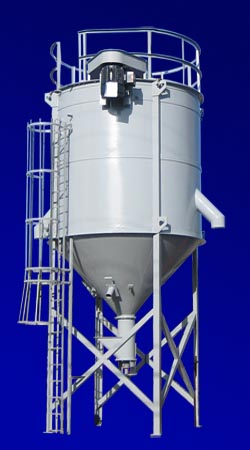 The Hayes & Stolz Vertical Batch Mixer: Is an industrial-grade unit designed to mix dry, free-flowing ingredients. The mixers are available in capacities from 500 to 50,000 pounds.
---
The H&S Rotary Drum Scalper:  Removes oversize material from the product stream prior to further processing or storage. The product inlet directs material into the inclined, rotating screen cage. A gentle tumbling action allows the product to pass through the screen into the collection hopper. Oversize particles will convey off the end of the screen into the overs discharge. The secondary inlet allows you to bypass the screen cage.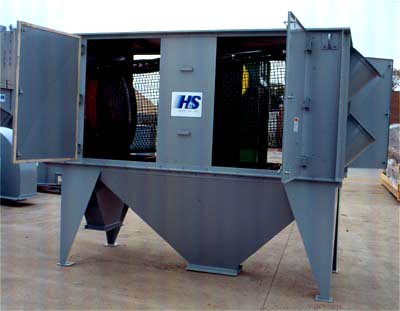 ---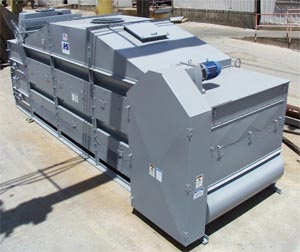 Hayes & Stolz Horizontal Cooler:  Tray type ambient air coolers assure you of smooth and reliable performance. Single, Double, Triple and Quad Pass Models available in widths of 4, 5, 6, & 7 feet, and in lengths of 15 to 50 feet.
---
The Hayes & Stolz Distributor: Allows you to vent your product bins back through the distributor to a single filter or collector. A rotating air pickup spout rotates with the product spout to pickup air from the bin being filled. This spout is connected to the rotating, sealed air plenum. Available from 6″ to 48″ diameter and from 3 to 30 outlets, with many features. Accuracy is assured with positive acting limit switches.